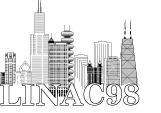 LINAC98 Papers

Papers are organized according to session number. For example, session number MO4037 represents:
MO (Monday) 4 (sessions 1,2=invited; session 4=poster) 037 (order of presentation).
These papers are available in PDF format only. Papers should be viewed using Adobe Acrobat Reader 3.0 or 3.01, which can be downloaded from the Adobe site. Acrobat Reader 3.01 is available for the following platforms: Windows (32 bit), Windows (16 bit), Macintosh, IBM-AIX, SGI-IRIX, Sun Solaris, SunOS, HP-UX, Linux, Digital Unix, OS/2 Warp (Adobe Acrobat Reader 3.0 only).
---
---
Questions about these papers should be directed to: cee@aps.anl.gov